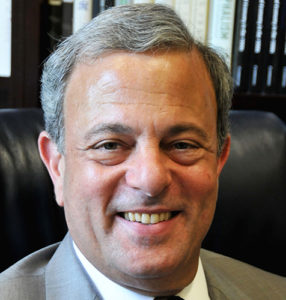 Michael A. Bernstein, PhD
Senior Consultant
Dr. Bernstein, who is currently Interim President at The College of New Jersey, brings a long and distinguished history in academic administration and leadership to his work as a Senior Consultant with K&A. An elegant strategist and eminent teacher, he served earlier as Provost and Senior Vice President for Academic Affairs at Stony Brook University (of the State University of New York) from October 2016 through October 2021. During the 2019-2020 academic year, he was Stony Brook's Interim President — leading the University safely, capably and resolutely through the first year of the pandemic of COVID-19. Before that, as the John Christie Barr Professor of History and Economics and University Provost at Tulane University, he worked with the senior leadership team to oversee Tulane's extraordinary and successful recovery from the catastrophe of Hurricane Katrina.

Michael is a tested leader whose breadth of experience in both customary and contingent circumstances is now available to K&A's clients. Many of his accomplishments speak to one of K&A's values: students first. At Stony Brook, his focus as Provost on undergraduate student outcomes led to a remarkable improvement in retention and graduation rates and achieved significant milestones in diversity and inclusion; today, some 40% of its undergraduates are first generation students. His leadership in transforming global affairs programming and international student recruitment resulted in Stony Brook's receipt of the 2018 Senator Paul Simon Award for Campus Internationalization. Earlier in his career, the University of California, San Diego recognized Michael's devotion to students and teaching with the Academic Senate Distinguished Teaching Award; he ultimately served there as Chair of the Academic Senate and later as Dean of Arts and Humanities. 

Michael's teaching and research interests focus on the economic and political history of the United States, macroeconomic theory, industrial organization economics, and the history of economic theory. A former Fulbright Scholar at Christ's College-Cambridge, he studied economics at Yale University, where he received his bachelor's degree, two master's degrees, and a doctorate. He resides in his beloved San Diego and looks forward to working with new colleagues to advance change for learning.
Executive Leadership Coaching
Faculty Leadership & Development
Institutional Governance
Strategic & Sustainability Planning